Class 11th English Model Question Paper First Term Exam|Maharashtra Board
Class 11th English Model Question Paper First Term Exam
Class 11th English Model Question Paper First Term Exam|Maharashtra Board
        First Term Exam
Std: 11th                                 Sub: English                                  Marks: 50
SECTION-I PROSE Class 11th English Model Question Paper
(Reading Skill, Grammar, Vocabulary and Summary)
Q.1. (A) Read the extract and complete the following activities:    (12)
     In April 2005, we started to look for a good variety of traditional rice. It was one of our neighbors in the village, a business man from Mumbai who owned land, who suggested that we Plant a local scented variety of rice. Most of the farmers in and around the village of Peth had switched over to hybrids. The
Younger generation of farmers thought I was crazy to ask for the 'desi' variety, as they called it. My regular visits to the villages around searching for a good Traditional variety also did not yield any results and we were almost giving up hope. I decided to give it one last try and spoke to Baban's father and some other elders. After many meaningful conversations, they mentioned the name of Kasbai.
Kasbai is a traditional long-grained rice variety which has a distinct aroma, though Much milder than Basmati. It's' along-duration crop and most of the older people remembered Growing it years ago. But they all shook their heads when I asked them about the seeds and told me that it had 'disappeared'.
The tales of Kasbai made us more were determined to get it. We decided that if we did manage to get some seeds this would be a great rice to grow. I thought the government may know something about it. A visit to the agriculture officer was enlightening. He had not even heard of this rice variety. He said the villages were taking me for a ride and there was no rice by this name. He rattled off the names of a number of latest hybrids and even offered to give me some of them free of cost for a trial. Cursing myself for wasting time with him I moved on to the next destination.
A.1.State whether  the following statements are true or false:  (2)
The author wanted to grow the desi variety of rice.
Kasbai is a hybrid variety of rice.
The agriculture officer had knowledge about Kasbai.
The author didn't stop his efforts to find the desi variety of rice.
A.2.List any two features of Kasbai mentioned in the extract:    (2)
………………………………………………………………………..
………………………………………………………………………..
A.3.The writer almost gave up hope of finding the desi variety of rice because                                                 (2)
………………………………………………………………………
………………………………………………………………………
A.4.Personal response:                                                               (2)
"Organic farming is the need of time."Explain in brief.
A.5.Language study:                                   (2)
1) The correct direct speech of the following sentence is-
They told me that it had disappeared.
They said to me, "It had disappeared."
They said to me, "It has disappeared."
They asked me, "It has disappeared."
2) We started to look for a good variety of traditional rice. (Identify the tense)
A.6.Vocabulary:                                      (2)
Give the antonyms for the following words-
(i) regular (ii)younger (iii)remember (iv)disappeared
(B) Language study:                                          (4)
1) Do as directed:                                                          (3)
His father is…. accountant in…. State Bank of India. (Rewrite using appropriate articles)
The train arrives at Badnera ….7:30….the morning. (Use suitable prepositions)
It was an interesting story. (Make it exclamatory sentence)
2) Spot the error in the following sentence and write the correct one for it from the following: (1)
"Rama and his wife was working in their farm."
Q.2.Read the extract and complete all the activities given below:            (12)
One day, King Amrit and Chandan were taking a walk on the terrace of the palace. The terrace offered beautiful views of the surroundings, and they could see far into the distance. They spotted the weekly market from up there, with people in colourful clothes buying and selling all kinds of things. There was plenty to buy and people had money to buy too. There were No poor people to be seen anywhere. The king watched with a smile on his face. He was Delighted to see the prosperity of his kingdom. Like any good ruler he was happy when his People were happy. He turned to Chandan and said, "See how contented my people are. But I want to check this first-hand by talking to them
. Tomorrow, summon people from all walks of life to the court, and I will ask them myself how they are doing."Chandan was used to the king's strange requests, and went off to carry out this order. The next day, the king arrived in court humming a happy tune to himself. Seeing all the people gathered there waiting for him, he was even more pleased. He cleared his throat and Said in a loud voice, "I have called you here to ask you a very important question. As your king, I need to know if all of you are contented. Do you have enough for your needs? Do you know anyone who is not happy about anything?
"The citizens looked at each other, thought for a while and slowly one by one they came forward to answer. One after the other they all said how happy they were-their kitchens had enough food, their trades and businesses were doing well, the king had made them feel safe. The farmers had grown good crops and the rivers and ponds were full of fish.
What more could they ask for? The king became more and more pleased as he heard this. Only Chandan, his minister, watched and heard everything with a frown on his face. Why? What was wrong? Soon he walked up to the king and whispered something in his ear. King Ambit's eyebrows rose up in astonishment. Surely, Chandan could not be serious! But he looked at the minister's face and found no trace of this being a joke. He turned back to the court and made a most unusual announcement. "I am delighted that all of you have said you are happy. But I want to test this.
Tomorrow, I want all the happy people of this kingdom to come and meet me in the royal gardens. But I have a condition. All of you will have to enter the garden from the main gate, walk across and meet me by the gate at the rear of the garden. I will wait for you there. 'When you enter the garden you will be given a sack and you can pick whatever fruits or flowers your wish."
A.1.Complete the following statements using the correct information from  the extract: (2)
One day King Amrit was taking a walk with his minister on……………..
The name of the minister of king Amrit was …………
The king was delighted to see………………..
When the people entered the garden they would be given……………
A.2.Find out any two reasons given by the people to the king for their being happy.(2)
i)……………………………………………………………………………………………..
ii)…………………………………………………………………………………………….
A.3.Explain the condition made by the king for his meeting to the people in the royal garden. (2)
A.4.Personal response:                                           (2)
State at least two things that make you happy.
A.5.Do as directed:                                                 (2)
They could see in to distance. (Rewrite using able to)
"You are happy."(Make it negative without changing its meaning)
A.6.Vocabulary:                                                     (2)
Match the pairs of the words in column "A" with their meanings in column "B":
Column 'A' Column 'B'
(i) spotted                                           (a) satisfied
(ii)summon                                         (b) happened to see
(iii)contented                                    (c) surprised
(iv)astonishment                             (d) call
(B)Summary-                                                                               (3)
Write the summary of the above extract with the help of the points given and suggest a suitable title:
King Amrit sees prosperity of the people ……..delighted-want to check by talking to them ……. Summon to court ……… next day people narrated for their being happy …….. asked them to meet him in the royal garden.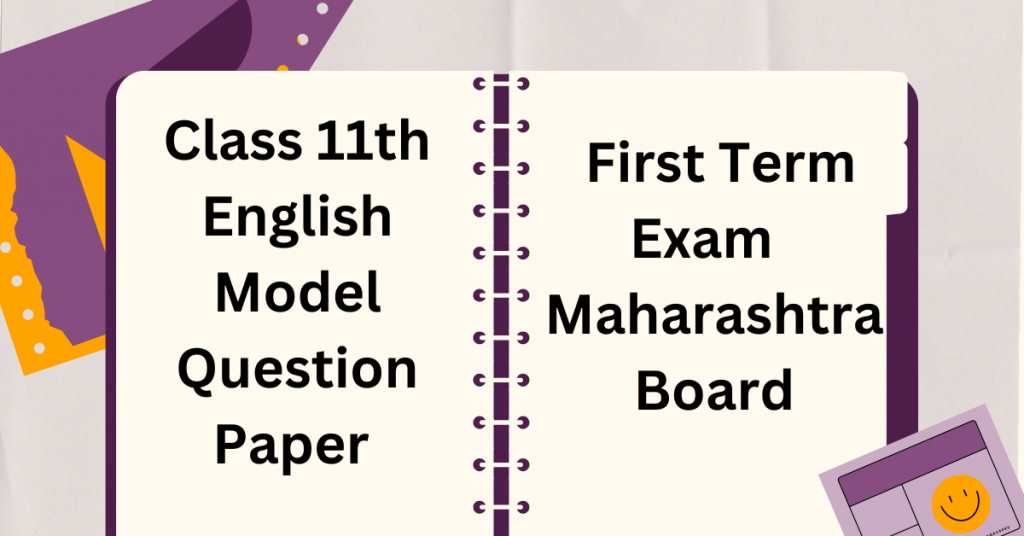 SECTION II – POETRY Class 11th English Model Question Paper
Q.3.A. Read the extract and complete the activities given below:            (10)
Sitting in a porchway cool,
Sunlight I see, dying fast,
Twilight hastens on to rule.
Working hours have well-nigh past.
Shadows run across the lands:
But a sower lingers still,
Old, in rags, he patient stands.
Looking on, I feel a thrill.
Black and high, his silhouette
Dominates the furrows deep!
Now to sow the task is set.
Soon shall come a time to reap.
Marches he along the plain
To and fro, and scatters wide
From his hands the precious grain;
Muse I, as I see him stride.
Darkness deepens. Fades the light.
Now his gestures to mine eyes
Are august; and strange; his height
Seems to touch the starry skies.
A.1 Global Understanding:                                       (2)
The poet has observed the sower closely. Express in your own words the reverence the poet has for the sower.
A.2 Analysis:                                                                               (2)
Explain – 'Old, in rags, he patient stands.'
A.3 Personal Response:                                                            (2)
Write down the essential things required for farming.
A.4 Poetic Devices:                                                                    (2)
Pick out and explain the example of alliteration from the extract.
A.5 Poetic Creativity:                                                               (2)
Write down the poem of four lines on Farming.
SECTION III – WRITING SKILLS
Q. 4. Complete the following activities as per the instructions given below.
(A) Attempt any ONE of the following.
E-mail Writing :                                                                       (4)
Write an e-mail in the proper format to the Manager of Safar Tours and Travelling Company
(safartours@gmail.com) enquiring about the tour package with the help of the following points.
* Write about your route and duration of tour.
* Enquire about halting and boarding charges.
* Ask for special offers
* Add your own points.
Or
Expansion of an Idea :                                                         (4)
Expand the following idea in about 100-150 words with the help of the points given below.
'Travel Broadens the Mind'
* Necessity of travelling.
* Cultural and educational importance.
* Travelling connects us to different communities and societies.
* Travelling brings the world together.
* Add your own points.
SECTION IV – (GENRE – DRAMA)
Q.5. Give answers.                                                                     (5)
A) Write the definition of Drama.                                            (1)
B) Write the Elements of Drama.                                            (1)
C) Explain the term "willing suspension of Disbelief".        (1)
D) Define "Plot."                                                                         (1)
E) Define "Setting."                                                                    (1)
You may also learn about Unit Test One 11th Class